The next version of Genshin Impact is soon to arrive hardly a week remains. The update is filled with lots of content for all the explorers to explore a new region, battle new enemies, conquer new domains, and witness the next chapter in the journey of our young traveler.
With each new update, Genshin receives something new and expands it's ever-expanding world. The next version is officially to be known as version 2.0. The update seems the biggest till date. The new region 'Inazuma' along with a roster of new characters and storyline is heading to your PC this July 21, 2021. We already met with young Kazuha the first character from Inazuma who is on the run from the Inazuma. Currently traveling with Beidou's Crux Fleet. But we will see and might even get two new characters 'Ayaka' the princess of the Kamisato clan and 'Yoimiya' as the banners for the upcoming new season.
The trailer shows us a glimpse of what to expect in the next version of the update. New characters, new enemies, new domains, a new region, and new and returning events. This new update will be quite large in matters of size and scope. It's been quite some time since we last got an update focusing on the main campaign AKA the archon quest.
Cross Play and Switch release
The much-requested feature since release is to be expected with this new release. Cross-saving is arriving on all platforms. Cross save will be available on PC, mobile (iOS/Android), and PlayStation. Currently, Genshin is available in Mobiles(iOS / Android), PC, PlayStation (PS4 / PS5). Genshin is not available on the Xbox platform and won't be available any time soon since the developers earlier hinted that they have no intention of making it available on the Xbox platform. But there is a piece of Good news for Switch users recently the developers from Mihoyo announced that a switch version is soon to be expected. The development for the switch has been in the works since its release last year. This new update will bring more optimization to the game, update 2.0 will add better shading and better controller support for players across all platforms.
The limited-time boss Maggu Genki introduced in update 1.6 for the summertime update event is coming as a permanent world boss in the new update.
Characters in Ayaka Banner
The frost heron Kamisato Ayaka will be the first 5-star banner. Coming alongside the release of the new version on July 21. The 4- stars that are coming along with her are Yanfei, Chongyun, Ningguang. Read more about Kamisato Ayaka here.
Release and Preload
The next version of Genshin Impact " The Immovable God and the Eternal Euthymia " is releasing on July 21. As per the previous track record of Genshin schedules you can expect the pre-load 2-3 days prior. Given the scope of the new update, the update is expected to be massive at least somewhere between 7GB – 12GB.
According to the tweet, the pre-load will go live on July 19th at 11.00 AM (UTC+8). For Indian players, you can expect the preload to go live in the morning at 8.00 AM. Please note that pre-loading early doesn't give access to the game early you still have to wait till July 21 when the update goes live. Pre-load ensures that you don't have to wait when the update arrives for downloading resources. It is very useful for people with slower connections.
New Region in Genshin Impact
The region of Inazuma is an electro region based on the Imperial Japan era. The NPCs from Inazuma are often wearing traditional Japanese Kimono.
New Areas
The new update brings tons of new locations worth exploring for now we know two great places worth mentioning. More places to be updated after the update here.
Grand Narukami Shrine
A sacred tree symbolizing the protection of the electro archon. The sacred tree is much like the frostbearing tree in dragonspine. Players will get to unlock the tree and level it up with resources and claim rewards. More about it here.
Moushoujin Gorge
Moushoujin gorge is somewhat like the remains of the Dragon in the Dragonspine area. Moushoujin is an island where the remains of a great serpent lies who fought with the Raiden Shogun centuries ago.
New Characters
This season you get to witness lots of new characters but three new playable characters are coming via the in-game gacha system. Kamisato Ayaka and Yoimiya are 5-star characters. While Sayu is a 4-star character.
Kamisato Ayaka
Ayaka will be a Cryo & long sword user. She has a traversal animation like mona but cryo. Ayaka will be a DPS-focused character. More about Ayaka here.
Yoimiya
Yoimiya is a fire-based Bow character also a 5-star from the land of Inazuma. She will be the second Pyro to use Bow the other one being Amber. More about Yoimiya here.
Sayu
Sayu a 4-star claymore character with a vision of Anemo she will be available alongside the Yoimiya banner. More about her here.
New Enemies and World Bosses
New various world bosses will be introduced in the new update a new pyro hypostasis, a water-based cycin mage called mirror maiden, and a new ruin sentinel which seems to adapt as various forms.
New Artifacts and Weapons
Two new artifact sets are coming in the new update. The Emblem of Severed Fate and Shimenawa's Reminiscence.
Emblem of severed fate is an artifact set that gives buffs focused on energy recharge. A 2 piece set will grant you a +20% energy recharge. While a 4 piece set will give elemental burst a 25% damage boost of the energy recharge total pool. A maximum 75% damage boost can be obtained.
Emblem of Shimenawa's Reminiscence is an artifact set that has unique perks. A 2 piece set will grant you a +18% Attack Buff. While a 4 piece set will give damage buff by 50% for sacrificing 15 energy if it has more than 15 energy.
New Weapons coming in update 2.0
With the new Inazuma update we will be getting a tons of new weapons including new 4-star weapons.
4-star Bow: Hamayumi
4-Star Sword: Amenoma Kageuchi
4-Star Catalyst: Hakushin Ring
4-Star Claymore: Katsuragikiri Nagamasa
All the above 4- star weapons seem to be craftable increasing the roster of craftable weapons. giving free-to-play players a better chance to customize their loadouts without spending much primos on weapons banner wishes.
New 5-star Weapons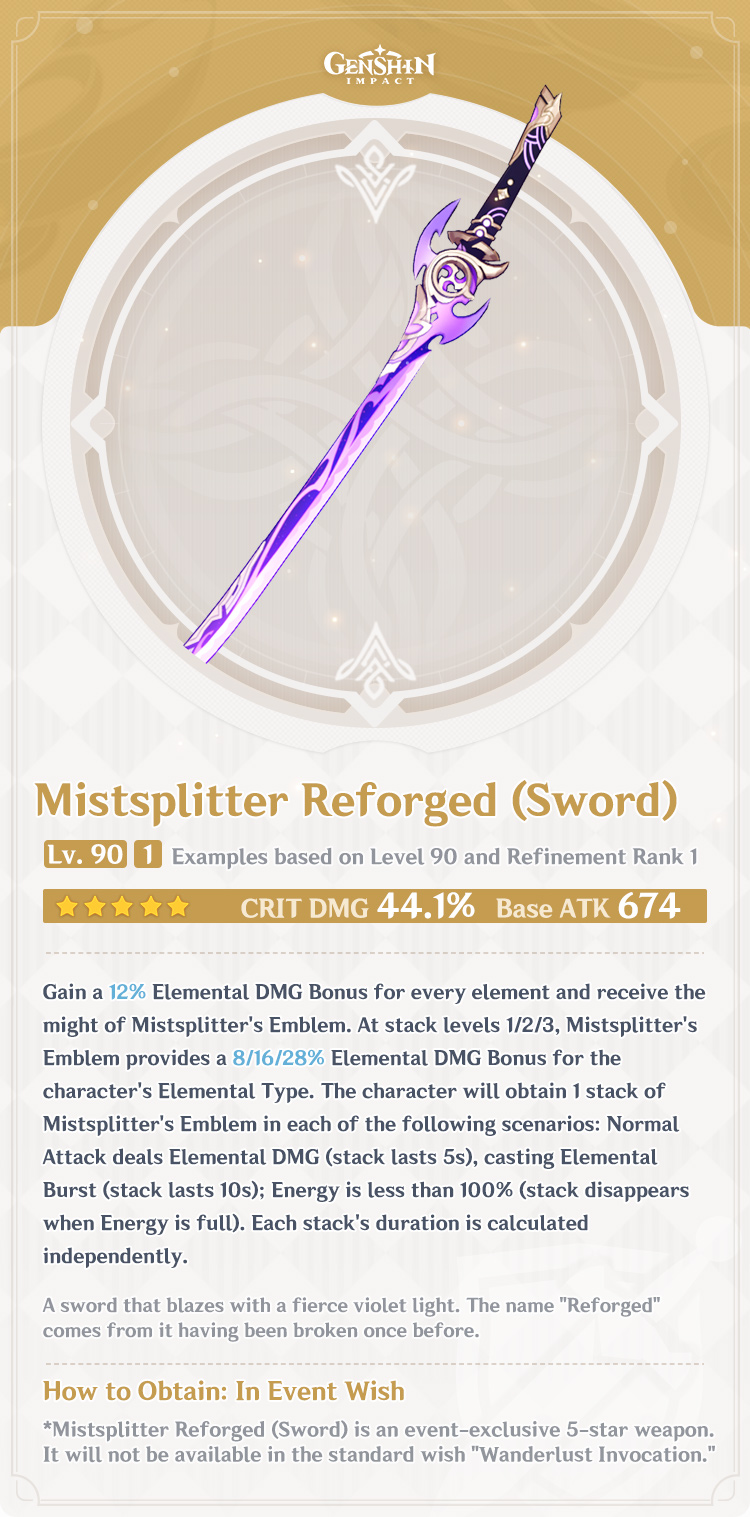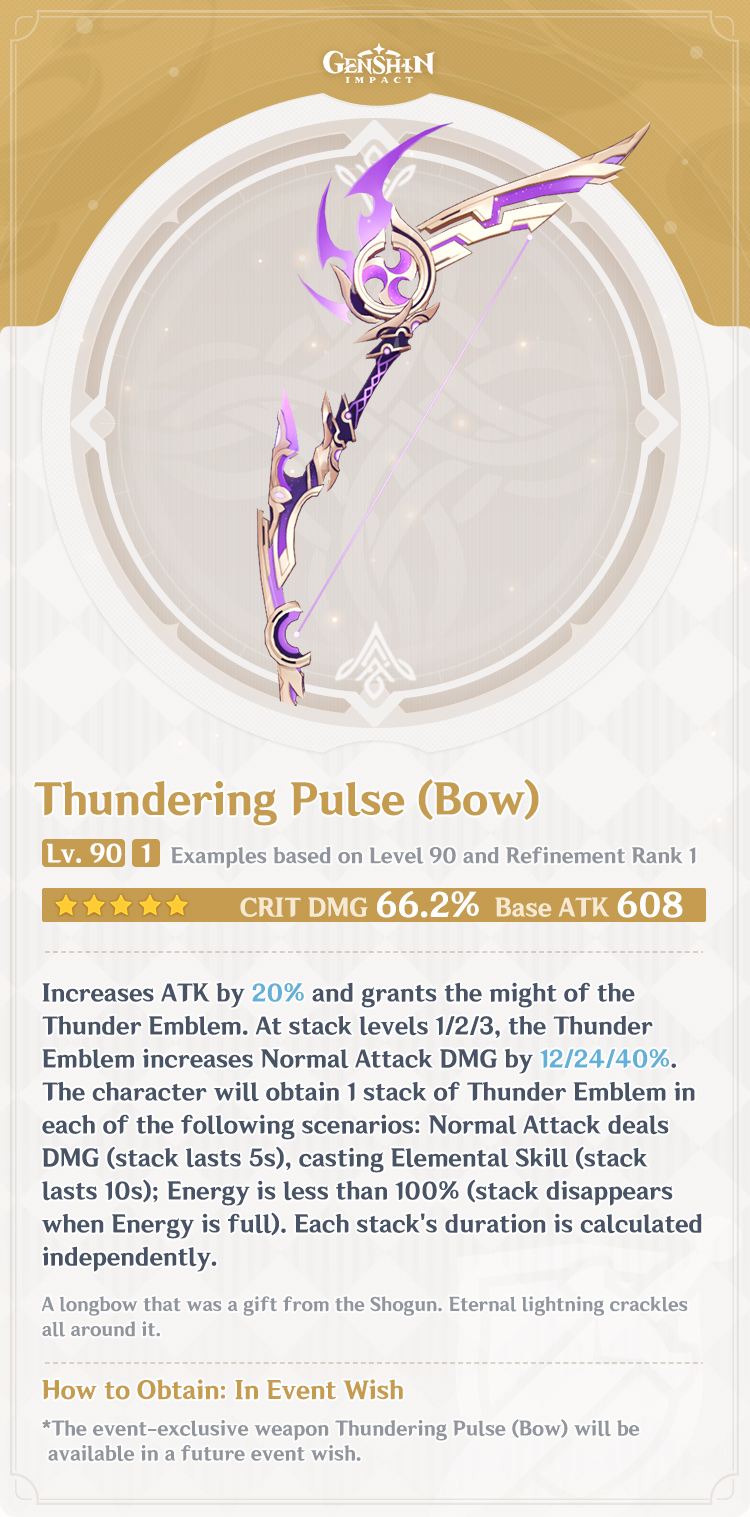 New Changes to Game
A new system regarding crafting is being introduced in the upcoming update called Mystic offering system. In this new system, we can sacrifice up to 3 5-star artifacts to craft the item called " Artifact Strongbox." After crafting the item you can select which set is required and a random artifact will be available from the 4 sets players have chosen.
A New Pity system is being introduced in the upcoming banner for Epitome Invocation banners AKA the weapon banners. According to the new pity system, players can choose a 5-star weapon of their choice. If they don't get the on the banner or selected weapon in their current pity the next time they draw will be a guaranteed 5-star of their choice. For instance, if you want mist splitter reforged sword and you get any other 5-star for eg. Skyward Spine that will count as 1 fate towards your fate accumulation. The max amount of fate that can be stacked is 2 at which point you will be able to claim your desired 5-star weapon.
Note:
Players who don't wish on Weapons banner won't get any fate points.
Fate points will be reset if Epitome path changed or cancelled.
If selected weapon is obtained before reaching the pity fate points will reset.
At the end of the banner period unused fate points will reset.
This new pity system is not for regular players if you ask me. Frankly speaking, this is for those who spend a lot on gacha system to get your desired weapon you need to wish about 300 wishes. And within the time limit of the banner and if you get your weapon before pity it's good for you. But this new system is a waste for regular players.
More details Coming stay tuned to know more about our updates related to Genshin Impact 2.0